MAYBANK KIM ENG

PHILLIP SECURITIES

United Overseas Bank (UOB SP)

Preserving value

Stability amidst volatility UOB's 1H19 earnings came in well ahead of our/Street estimates. Resilient loan growth, strong trading income were key drivers. YoY NIMs disappointed again, but the QoQ improving trend as funding costs fall should allow for a better 2H19. Macro weakness in Singapore should be tempered by exposure to higher growth markets where nearly half UOB's loans are booked. Rising NPL risks are a key concern, but strong provisioning levels following aggressive kitchen sinking in the past opens potential for write-backs. Together with strong capital and liquidity positions, we believe UOB is well placed to face macro volatility, while offering a 4.9% dividend yield with upside risks. We raise our DDM-based TP by 1% to SGD29.13. Maintain BUY.

Oversea-Chinese Banking Corp Ltd

Catch-up in NIM expansion

 2Q19 revenue/PATMI was in line with our estimates.

 Strong NIM expansion of 12bps YoY and 3bps QoQ to 1.79%, due to a catch-up in loan repricing and better utilisation of deposits.

 Wealth management fees surged 17% YoY to $262mn, its highest level in five quarters.

 Life insurance profit from GEH fell 26% YoY due to decline in discount rate used to value long-term insurance contract liabilities.

 Credit costs normalised to 15bps after higher provision was taken in 1Q for the OSV sector. NPL ratio remained stable at 1.5% (2Q18: 1.4%).

 Declared interim dividend of 25 cents/share, 25% higher than a year ago.

 We maintain ACCUMULATE at a lower target price of S$12.50 (previously S$12.70). Our TP is based on target price-to-book of 1.3x, derived from the Gordon Growth model. We toned down terminal growth from 2.5% to 2.0%.

RHB

CGS CIMB

Genting Singapore (GENS SP)

High Win Rate Offsets Decline In Mass Gaming

 Maintain NEUTRAL with a lower TP of SGD0.97, from SGD1.02, 8% upside plus 4% yield. 2Q19 result met our expectations. 2Q19 adjusted EBITDA grew 11% YoY to SGD294m bringing 1H19 adjusted EBITDA to SGD624m, which represents 50% of our estimates. This was attributed to stronger VIP volumes and a higher win rate which helped offset the significant decline in mass gaming. Moving forward, we expect adjusted EBITDA to soften as win rate normalises and volume eases.

Hongkong Land Holdings Ltd

Standing strong in Central

■ Extended average office lease expiry may cushion downside for office rents.

■ We think HKL's application for plot ratio increase in its mega JV project with SHKP in Yuen Long could drive growth in the medium term.

■ We keep our Add call with a TP of US$7.4, based on 45% discount to NAV.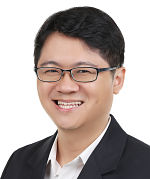 Check out our compilation of Target Prices