Excerpts from UOB Kay Hian report

Analysts: Lucas Teng & John Cheong


ISOTeam (ISO SP)
Becoming A Larger Player With An EPS Accretive Acquisition
ISOTeam announced the proposed acquisition of project management and commercial fitting-out unit, Pure Group, in a S$24m consideration, with half of the consideration in terms of cash and half in warrants.


ISOTeam
Share price:
25 c

Target:




34 c
This EPS accretive acquisition makes ISOTeam a larger player with extended services and it is well poised to gain from more private sector projects.

Maintain BUY with a revised PE-based target price of S$0.34, up from S$0.30, to account for a 14% EPS accretion for FY20.

WHAT'S NEW
• Acquisition of project management and commercial fitting-out unit in S$24m consideration.
ISOTeam announced the acquisition of project and construction management services, as well as commercial and retail fitting-out works in Singapore, Philippines, China, Malaysia and Thailand. It manages turn-key retail and commercial projects with services ranging from design management and project management to contract administration to risk and stakeholder management.

• Extending capabilities for increased opportunity of growth.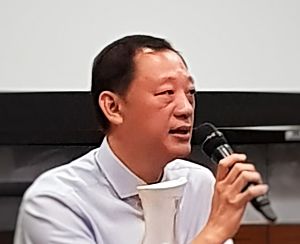 CEO Anthony Koh. NextInsight file photoThe acquisition extends ISOTeam's services to include the full suite of project and construction management services in addition to its existing engineering services and solutions.

The acquired unit, Pure Group, has completed notable projects, where past clients include Integrated Resorts in Singapore, Vanguard Hotels across Southeast Asia, Swarovski SEA, IKEA Mega Bangna in Bangkok, Thailand, MYTOWN Shopping Mall in Kuala Lumpur, Malaysia, and Mosaic Shopping Mall in Xi'An, China.

• Purchase through combination of cash and consideration warrants.
The purchase consideration will comprise a combination of 50% cash and 50% ISOTeam shares by way of non-listed transferable warrants. For the warrants, 11.8m consideration warrants will released in FY20 upon the target company achieving profit after tax of S$3m, 35.6m will released in FY21 upon the target company achieving profit after tax of S$5m.

The warrants are based on an exercise price of S$0.2532. If the earn out payment is not achieved, the seller will make full payment in cash for the shortfall. The acquisition cost is based on 6x the target's average EBIT.

STOCK IMPACT
• EPS accretive with safeguards in place.
According to ISOTeam, the acquisition is earnings accretive and we think it will be EPS accretive to ISOTeam with the newlyintegrated company Pure Group. We also deem the safeguards in place to be adequate, increasing the minimum profit targets in line with an increased amount of warrants issued.


• Increasing orders with private sector wins; riding on the wave of IR development.
We also noted that ISOTeam had previously been contracted to complete a large Addition and Alteration (A&A) project with Marina Bay Sands (MBS), converting its theatre lobby to a new nightclub.

The group has also worked on a commercial interior design project for Lavo Singapore at MBS and A&A works at Starz Restaurant at Hard Rock Hotel at Resorts World Sentosa, a testament to the growing and high profile projects under its belt.

Leveraging on the newly-acquired project management unit's experience with private sector projects and the S$9b IR development expected, we think that ISOTeam is well poised to deploy its extensive services and cross selling expertise to gain more private sector contract wins.


EARNINGS REVISION/RISK
• Raise FY20-21 earnings forecasts by up to 40%, accounting for the new project and construction management unit.
We account for the minimum guaranteed profits of the newly-acquired project management unit and our earnings forecasts come in at S$9.3m for FY20 (+37%) and S$11.5m for FY21 (+40%).

VALUATION/RECOMMENDATION
• Revised PE-based target price of S$0.34. This is based on a 12.4x 1-year forward PE, in line with ISOTeam's mean forward PE (excluding low base earnings effect in 2018).

We have also factored in the increased share base with the warrants and the assumption of equity fund raising from its cash consideration, at the issuance price of S$0.253 per share.

We assume that ISOTeam will issue 59m shares in FY20 and 35m shares in FY21. The group's growth looks to be on an upward trajectory with the acquired unit in place.

SHARE PRICE CATALYST
• Accretive M&As
• Contract wins.
• Margin improvement from new headquarters.

Full report here.