Koufu Group, Singapore's most profitable F&B play, grew its pretax income 9.4% a year (CAGR) over the past 3 years.

In FY2018, pretax profit was S$31.8m.

It has outperformed many SME peers -- not that it was easy.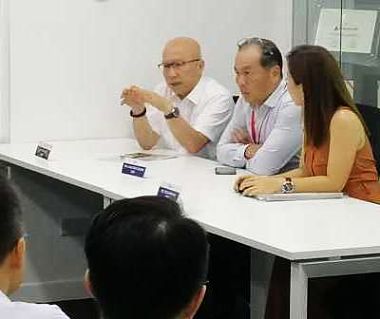 L-R: Executive chairman & CEO Pang Lim | COO Choo Teck Chuan | CFO Chua Sher Lin.
Photo by Ngo Yit Sung"SMEs face a huge hurdle when growing into a sizeable company. Many simply hit a plateau and remain there because the expertise for managing a company with 100 employees is completely different from what is required to manage a company with over a thousand employees," said Koufu Group Executive Chairman Pang Lim at an investor briefing last Friday (12 July).
Stock price

75c

52-week range

59c - 83c

Market cap

S$413 m

PE

(ttm)

15.8 x

Dividend yield

(ttm)

1.6%

Price to book

4.5 x

Source: Bloomberg
Koufu employs over 1,300 people in two business segments:

1. Outlet & mall management and F&B retail: It runs 49 food courts and 16 coffee shops, a hawker center and a commercial mall in Singapore and plans to expand its food court business in Macau. Segment pretax profit margin was 14% in FY2018.

2. F&B retail business segment: It operates F&B stalls located within its food courts and coffee shops or within third-party food courts as well as F&B kiosks, quick-service restaurants, and full-service restaurants. It has 13 tea kiosks in Singapore and plans to expand to 30 tea kiosks by year-end. Segment pretax profit margin was 20% in FY2018.

The F&B player has been in talks to bring its tea kiosk business via joint ventures to Indonesia and the Philippines. On 4 July, Koufu announced a joint venture to introduce its specialty tea brands Supertea and R&B Tea to Indonesia.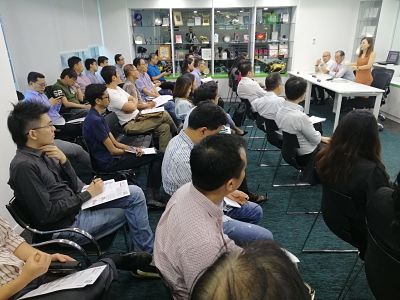 The Koufu story attracted a large turnout of investors. Photo by Ngo Yit SungIndonesia's quick service food industry has been growing 6% a year, supported by the country's growing affluence and curiosity towards foreign cuisine.

Couple this with Indonesia's familiarity with Singapore cuisine and we have demand for specialty tea Singapore-style. Koufu's JV will initially focus on Grade-A malls in Jakarta, which alone has a population of over 10 million.

"The Supertea and R&B Tea brands have a strong following in Singapore. Many Indonesian tourists requested that we bring the brand to their home country," said Mr Pang.

Expanding Capacity to Support Overseas Expansion

Koufu operates two central kitchens in Woodlands, one for non-halal food and the other for halal food. About 90% of Indonesia's population of 260 million are Muslim.

Koufu's central kitchens are equipped with cold rooms, chillers and semi-automated and fully automated production machines which produce dim sum, desserts, bakery, and confectionery, as well as hot food. The food products are then delivered dry, chilled or frozen to the Group's F&B outlets and self-operated stalls for cooking or re-heating before being served.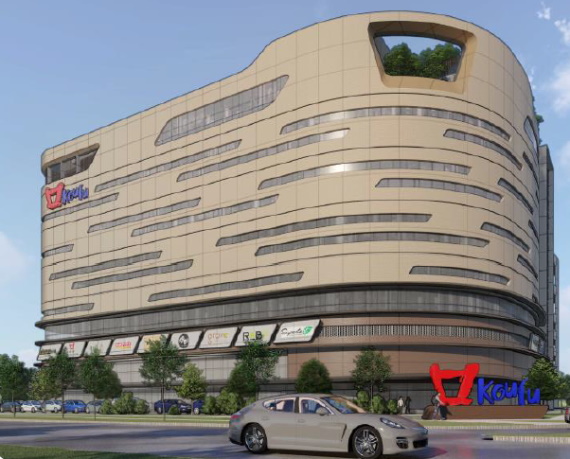 Artist's impression of new Koufu HQ on Woodlands Ave 12, which will open in 1H2020.The Group is building a 7-storey facility in Woodlands that will house a central kitchen that is 5 times the size of its current central kitchens.

The new facility has a gross floor area of about 20,000 sqm, will also house its corporate HQ, and is slated for completion in 1H2020.

It intends to use the additional capacity to support its expansion beyond domestic consumption at its own outlets.

"We intend to work with experienced local partners to foray into new markets via joint ventures," said Mr Pang. He explained that it's important to work with partners who have a network of food stall operators that will form its tenant base if one wants to operate a food court business overseas.

The Group will have an effective stake of 32.4% in the JV for its foray into Indonesia's market for specialty tea kiosks through its subsidiary, Super Tea (S) Pte. Ltd. A&O Assets Sdn Bhd ("A&O") will hold 40% and Ms Chan Bee Kiew, 6% in the JV.

A&O is an investment holding company jointly-owned by Dato Seri Koay Hean Eng, the founder, and chief executive of Kobay Technology Bhd. Group, a Malaysian property developer listed on Kuala Lumpur Stock Exchange. Ms Chan was formerly the general manager of a reputable restaurant chain in Indonesia and has more than 10 years of experience operating F&B businesses there.

"With the new HQ, we will be able to expand from a food service business to a food production business," said Mr Pang, referring to the possibility of supplying food products to third parties.