OCBC

DBS VICKERS

SG Strategy: Retail therapy, buy local

Global equities had a major rollercoaster ride this year, from heady highs earlier in the year to panic lows by the last quarter of the year. While there were the usual pockets of geopolitical tensions and politically tense situations, trade tensions and tariffs between the US and China hogged the limelight, and escalated in 2H18. Fortunately, 3Q corporate earnings were fairly in line with expectations and there were minimal earnings shocks or cuts. In general, guidance from listed companies was muted and earnings outlook for 2019 was pared down in anticipation of slower growth next year. Current valuations are attractive; PER of 12.1x and with an attractive dividend yield of 4.3%. Our 2019 stock picks are CapitaLand, DBS, Frasers Centrepoint Trust, Frasers Logistics & Industrial Trust, Keppel DC REIT, Mapletree North Asia Commercial Trust, Netlink NBN Trust, SATS Ltd, Singapore Airlines, Singapore Technologies Engineering, SingTel, UOB and UOL.

Keppel DC REIT

On cloud nine

BUY, TP S$1.52. Trading at a yield of c.5.6-5.7%, Keppel DC REIT (KDC REIT) remains one of the few REITs in Singapore that are capable of making accretive acquisitions, supported by low cost of capital. The REIT is projected to deliver a solid 2% CAGR in distributions, with upside from acquisitions.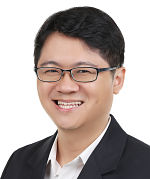 Check out our compilation of Target Prices