UOB KAYHIAN

MAYBANK KIM ENG

China Aviation Oil Singapore Corp (CAO SP)

3Q18: Buffeted By Higher Expenses And Weaker Associates Performances

CAO's 3Q18 earnings were a miss as profits fell due to the weaker performances of its associates and higher expenses. While revenue grew 21.24% yoy, the strong topline performance was offset by lower associate contribution (-18.67% yoy), higher other operating expenses (+231.08% yoy) and higher financing costs (+465.0 yoy). We lower our 2018 forecast but maintain BUY with a lower PE-based target price of S$1.93 pegged at 13.5x 2018F PE, or a 20% discount to peer average of 16.9x.

Ascott Residence Trust (ART SP)

On A Broader Base

3Q18 DPU up 7.7% YoY; SG recovery underway

3Q18 DPU was in line with consensus and our estimates at 1.82 SGD cts, up 7.7% YoY but down 1.1% QoQ. Growth was driven by 9% YoY increases in both its stable and growth income, helped by acquisitions in Singapore and the US. We trim DPU by 1% but keep our DDM-based TP at SGD1.15 (COE 7.9%, LTG 2.0%). Global macros are expected to drive ART's returnsand-risk profile and keep its DPU growth at an estimated 2%. We prefer CDLHT (CDREIT, SGD1.45, BUY, TP SGD1.75) and FEHT (FEHT SP, SGD0.60, BUY, TP SGD0.75) as they should be better leveraged to a Singapore RevPAR rebound. HOLD.

CGS CIMB

DBS VICKERS

OCBC

NIM beat

■ 3Q18 core net profit was S$1.25bn, 13.1% above our estimate. 9M18 net profit made up 75/77% of our/consensus's FY18F forecasts.

■ NIM rose 5bp to 1.72% while loan growth was healthy at 1.7% yoy. Credit costs were low at 8bp of loans.

■ However, JAW was negative, translating into slightly higher CTI ratio of 42%.

Ascendas Hospitality Trust

Waiting to be rediscovered

Buy low, sell high.

We maintain our BUY call with a TP of S$0.98. Ascendas Hospitality Trust's (ASCHT) management has demonstrated the ability to buy low and sell high as seen by the sale of its Beijing hotels at more than twice the book value, exit yield of 3.6%, and redeploying the proceeds into properties with net property income (NPI) yield above 4.1%. However, this value add has not been recognised with ASCHT's still trading c.24% below our fair value. Attractive yields of 7.3%-7.6% provides support to share price.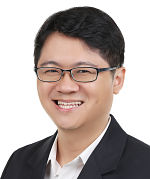 Check out our compilation of Target Prices