CSE stock, which traded at 43.5 cents when UOB Kay Hian issued a report (below) on 11 Sept 2018, has risen to 50 cents.

Excerpts from UOB Kay Hian report

Analysts: Yeo Hai Wei & John Cheong


During our recent meeting with CSE, management expressed optimism in CSE's business outlook. As market fundamentals continue to evolve favourably for CSE's infrastructure and O&G businesses, we believe there is greater scope for new order wins.


CSE Global

Share price:
43.5 c

Target Price:
59 c
With an attractive dividend yield of 6.3% and ability to sustain profits, CSE is an excellent proxy to the oil price recovery.

We re-iterate BUY and raise our target price by 1.7% to S$0.59, after raising our 2019-20 forecasts by 3.0-6.4%.


WHAT'S NEW
♦ Expansion in the US on the cards. CSE Global (CSE) remains upbeat about its outlook for the oil & gas (O&G) business, which is starting to see more small order wins.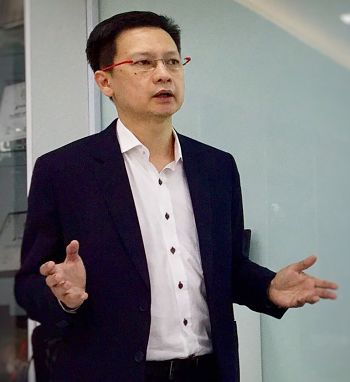 Eddie Foo, CFO of CSE Global.
NextInsight file photo.Compared with large orders, the smaller orders are highly recurring in nature and generate higher net margin.

As management looks to expand its presence beyond the Permian Basin and Eagle Ford through organic and inorganic initiatives, earnings growth momentum should be sustained with greater order intake velocity and growing orderbook.

♦ Australia and New Zealand offer plenty of growth headroom. CSE is expecting buoyant demand from end customers in Australia and will look to build on its dominant position as a nationwide player in the 2-way radio communication infrastructure industry.

There is also scope for CSE to expand its presence in the 2-way radio business to New Zealand when presented with the right opportunities. On the other hand, CSE is bidding for several sizeable infrastructure projects worth around S$30m.

♦ Working to be approved service provider for Petronas through Serba. With an eye on winning projects within Malaysia and North America, CSE is working in partnership with Serba Dinamik Holdings (Serba) to become an approved service provider for Petronas. Meaningful developments within this space are expected to flow through within the next 12 to 18 months.

♦ Recent share buybacks underline management's confidence in the company. Since May 18, CSE has commenced share buybacks at an average of S$0.47/share, indicating management's confidence in the company.

Riding on strong tailwinds and supported by favourable strategic developments, CSE remains undervalued at 11.0x 2019F PE with ~16% of its market cap in net cash despite a consistently profitable business.

Full report here.