Singapore-listed Tiong Seng Holdings has just completed construction -- using its advanced precast technologies -- seven blocks of low-cost housing units in Yangon, Myanmar.



It's Tiong Seng's first foray into the country and is not only a rare achievement in Myanmar but spells potential speedy solutions to the country's shortage of affordable housing.



Six blocks of five-storey blocks were built using semi-precast methods while the seventh was completed with Tiong Seng's Prefabricated Pre-finished Volumetric Construction ("PPVC") technologies.





The project in

the Dagon Seikkan township was

awarded by the Myanmar government via a Public-Private Partnership with Tiong Seng's joint venture partner, Shwe Taung Group.


With the implementation of the PPVC technologies, total construction time taken for a five-storey residential block, consisting 60 units at 400 square foot per unit, spanned a mere three months, said Tiong Seng.

Inclusive of the laying of foundations, the installation of precast modules, roofing works, rounded off by some ancillary installations and finishing touches, the block was delivered at an unprecedented pace, while yielding substantial productivity improvements from a reduction of manual labour required on-site.


Stock price

39 c

52-week range

25 – 43 c

PE (ttm)

5.7

Market cap

S$174 m

Shares outstanding

445 m

Dividend
yield (ttm)

3.9%

1-year return

61%

Source: Bloomberg
As a comparison, conventional construction methods would have taken upwards of six months to complete, said Tiong Seng.

The company's advanced precast capabilities yielded a 40% reduction in time taken. The speedy installation of ready-for-assembly precast modules within 24 days contributed to the bulk of the time saved.

In contrast, reinforced concrete works under conventional methods would have taken at least 80 days instead.

Being a relatively new approach towards construction in Myanmar, Tiong Seng believes that further optimisation of the precast installation phase is achievable as familiarity of the building system kicks in.

In its most recently announced financial results, the Group introduced its latest initiative, "Tripod Strategy", a three-pronged approach aimed at driving overall growth via its Construction, Property Development and Engineering Solutions business segments.

Tiong Seng's project in Myanmar is one of the first few that demonstrate the viability of monetising the Group's accumulated suite of construction technologies.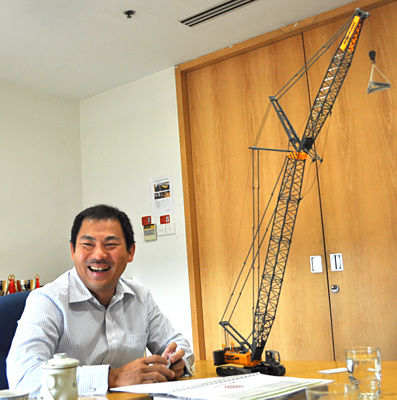 "Due to the growing and urgent need for affordable housing in Myanmar, our achievements are timely and have garnered much attention and support from the local government as well."
-- Pek Lian Guan (photo),
CEO, Tiong Seng Holdings
CEO Pek Lian Guan said: "Our joint venture with Shwe Taung to establish a precast factory in Myanmar has yielded promising results. We have essentially showcased the potential efficiencies that can be reaped from our well-oiled precast building system."

Tiong Seng's advanced precast works present practical solutions crucial to addressing Myanmar's housing supply issue.

Taking a manufacturing approach to construction, Tiong Seng's export of Design for Manufacturing & Assembly (DfMA) technologies to Myanmar has reinforced its goal of providing efficient and effective building solutions overseas.

"More importantly, the scalability of this asset-light business model sets a platform for us to monetise our suite of construction technologies that we have accumulated over the years."