It's record earnings and revenue at Nordic Group in FY17, as expected.

| | | | |
| --- | --- | --- | --- |
| | 2017 | 2016 | % change |
| Revenue | $91.5m | $81.9m | 12 |
| Net profit | $15.3m | $12.7m | 20 |
| Operating cashflow | $15.0m | $13.2m | 18 |
Though it's early days, FY18 may be a record year too, based on Nordic's internal earnings growth target of 20% a year which it has publicly committed to.

The company has outlined how it would arrive at the goal. See: NORDIC GROUP: How it aims to achieve another record profit in 2018.

Increasingly, there's more predictability in its business as it rides on recurring revenue from multi-year contracts for maintenance services for clients' petrochemical assets in Singapore.

Where it's lumpy is a business segment that has received little attention from investors for several years now.

This segment -- which provides certain system integration systems for ships, especially newbuilds in Chinese shipyards -- has struggled owing to the global shipbuilding industry being in the doldrums.

The shipbuilding industry is, however, now enjoying a nascent recovery.

And it has translated into a spurt in contracts won by Nordic's system integration (SI) segment: S$5.5 million in Jan/Feb 2018 versus S$8.2 m for the whole of 2017.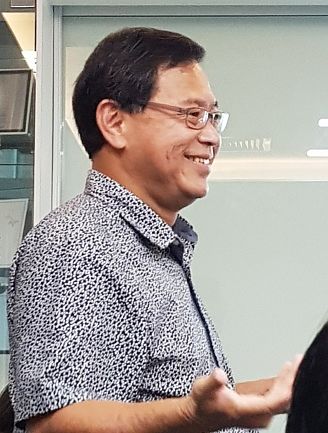 Chang Yeh Hong, executive chairman of Nordic Group, owns a 55.38% stake in the company. NextInsight file photo.The pick-up became evident in the later part of 2017 which reversed a downturn in Nordic's SI segment.

Chang Yeh Hong, executive chairman of Nordic, said that in the course of 2017, the SI segment was headed for a small loss -- for the first time -- despite further cost-cutting, including a reduction in the salaries of two directors.

In the end, the SI segment managed to break even, excluding a forex loss, at the close of FY17.

Ready to catch a big wave, the SI segment has submitted tenders for about $30 million worth of jobs.

Stock price

56 c

52-week range

23 – 57c

PE (ttm)

14.4

Market cap

S$218 m

Shares outstanding

393 m

Dividend
yield (ttm)

2.5%

1-year return

155%

Source: Bloomberg
In the meantime, Nordic as a group has an outstanding order book of S$106.8 million as at end-Jan 2018.

Within the orderbook is, notably, a S$35.0 million contract secured in May 2017 from a petrochemical MNC for a scaffolding, insulation and coating capital project.

As the building blocks for a 2018 record profit take shape, the share price of Nordic (currently 56 cents) has reached all-time highs.


Rather unusually,

the last page of

Nordic's Powerpoint presentation for its FY17 results lists the shareholding of the CFO, Chia Meng Ru, along with that of three directors.
Being an executive officer (and not a director or a substantial shareholder), she is not required to reveal her holding or purchases in any SGX filing on an ongoing basis.
When appointed as CFO in Aug 2017 (from her post as Nordic's head of strategic management), the statutory filing said she held 701,500 Nordic shares.

She now holds 1,511,500 shares, according to the Powerpoint presentation, so it follows that she bought 810,000 shares not too long ago.

The table shows her holding along with that of the three directors which, in aggregate, add up to a very high 75.2% stake in Nordic.


No. of shares held

%
shareholding

Last reported purchase

Chang Yeh Hong
(exec chairman)

217,699,225

55.38%

20 Oct 2017
3,312,500 shares @ 50 cents

Eric Lin Choon Hin
(exec director)

44,310,000

11.27%

20 April 2015
550,000 @ 18.5 cents

Dorcas Teo Ling Ling
(exec director)

31,989,500

8.14%

9 Jan 2018
50,000 shares @ 57.5 cents

Chia Meng Ru
(CFO)

1,511,500

0.38%

Not disclosed

Total

295,510,225

75.17%

Data as at 2 March 2018
It's not often well appreciated that when insiders have lots of skin in the game, they are highly motivated to do right by minority shareholders (and themselves).

Among other things, they avoid taking high risks that promise high returns but could instead damage the business badly.