Excerpts from Maybank Kim Eng's report

Analyst: John Cheong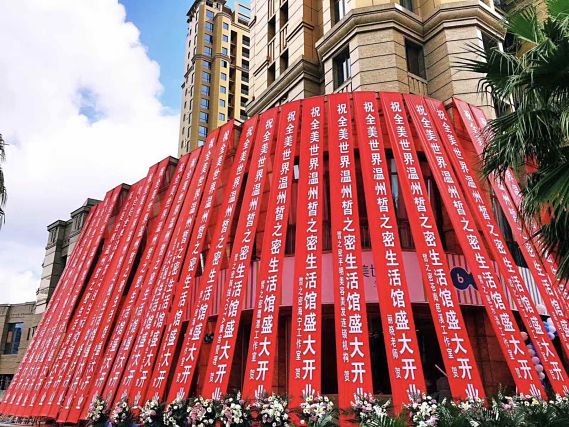 Grand opening of Best World service outlet in Wenzhou city, Zhejiang province. Photo: InternetAim for 5% market share of China's skincare market

Best World

Stock price:
$1.25

Target price:
$1.88
To achieve this ambitious goal, which requires sales growth of around 80% for FY18-20E, BEST will expand into more cities across China.

The application for a direct selling license beyond Hangzhou City has already started and should include at least 7 provinces by end-2018.

Cities in Hunan province are expected to be approved first, followed by other provinces. Also, it will continue to focus on its key strategies, especially in promoting good skincare products with unique selling propositions.

Watch this 2-minute video containing photos of Best World outlets in 7 provinces in China. These centres are to be audited, or are being audited, by the Chinese authorities before Best World's direct-selling licence is extended to cover those cities -->

Digitalisation and social media to enhance selling
BEST demonstrated how its distributors adopt social media, such as WeChat and Facebook, as well as videos to share and promote its skincare products. Also, the number of followers for its WeChat and Facebook account have more than tripled since Feb 2017 to more than 24,000.

It also demonstrated the application of its newly-developed mobile app, launched in Taiwan, which makes ordering of goods easier. The app will be launched in more markets soon.

Expansion into new markets; Restoring Taiwan sales
BEST is exploring growth in Indonesia and ventures into new markets, such as Japan and India in the future. For its second-largest market, Taiwan, it halted promotions to prevent discounted sales by distributors.

We should see a gradual recovery from 2018 onwards due to the low base and after weeding out discounted goods.


Swing Factors
Upside

♦ Robust growth in China after the approval of direct selling licence.
♦ Successful expansion in Taiwan, Indonesia and Philippines.
♦ Expansion into new markets, such as the Middle East.

Downside
♦ Regulatory changes detrimental to direct selling in its markets, similar to Indonesia's restriction on healthcare imports in 2009.
♦ Reputational risks caused by fraud or fake-product scandals for other direct-selling players or BEST's members.
♦ Failure to scale up in China would result in up to 10% downside to the share price valuation.♦ Shares re-rate as investor recognition increases. A 2-yr scenario to 19x FY19E EPS suggests 76% upside to SGD2.15 based on a PEG of 0.7x FY16-19E EPS CAGR of 27% (c.30% discount on regulatory risks and competition).

Full report here.