UOB KAYHIAN

PHILLIP SECURITIES

Singapore Airlines (SIA SP) 2QFY18: Stronger Than Expected On Good Cost Control And Bumper Cargo Profits

While we had expected SIA to report a strong quarter, the carrier still managed to beat expectations on strong cost control and surprisingly strong cargo yields. While parent airline's yield did not improve sequentially, SIA indicated that yields were stabilising. We retain our HOLD rating on the stock, pending further clarification on yields and sustainability of cargo profits. We also believe stock price is likely to be capped at book value for the next 3 months. Target price: S$10.10. Entry price is under review.

DBS GROUP HOLDINGS LTD

Major Spring Cleaning before FY18

SINGAPORE | BANKING | 3Q17 RESULTS

 3Q17 PATMI of S$0.8bn missed our estimate by 38.5%.

 The downside surprise came from lumpy accelerated provisions of S$815mn.

 NII is driven by stronger growth in loans volume.

 Strong momentum in WM and IB fee income

 Maintain "BUY" rating with a higher target price of S$26.83 (previous TP S$25.70) based on Gordon Growth Model.

OCBC

CapitaLand Limited: 3Q17 figures in line with expectations


3Q17 PATMI increased 28.1% YoY to S$317.0m from S$247.5m mostly due to fair value gains from Golden Shoe CarPark, the serviced residence component of Funan integrated development in Singapore and Citadines Biyun Shanghai in China, and portfolio gains from Wilkie Edge in Singapore, CapitaMall Anzhen in China and a 60% stake in CapitaLand Vietnam Commercial Fund I. Accounting for one-time items, however, operating PATMI for the quarter fell 18.8% to S$204.5m. Overall, we judge this quarter's results to be broadly within expectations. Due to fewer units being available for sale, CapitaLand's Chinese home sales figures in YTD Sep 2017 fell to 7,233 units (worth S$12.7b) from 9,176 units (worth S$14.8b) over the same period last year. In Singapore, the group sold 293 units worth S$1.15b in YTD Sep 2017 versus 510 units worth S$1.24b over the same period last year. Maintain BUY with an unchanged fair value estimate of S$4.13.

DBS VICKERS

Mapletree Industrial Trust

Powerful combination of Certainty and Growth

Maintain BUY with a street high TP of S$2.15.

We maintain our BUY call and raise our TP to S$2.15. We believe that Mapletree Industrial Trust (MINT) can continue to prove naysayers wrong and continue command premium valuations underpinned by steady DPU FY18-20F CAGR of 3.0% driven by the proposed US datacenter acquisitions; and well-timed contribution from its development projects over FY18-19F. A still conservative gearing of c.34% empowers the REIT to deliver more inorganic growth surprises. BUY!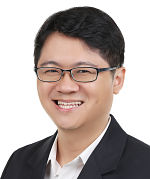 Check out our compilation of Target Prices