CIMB

UOB KAYHIAN

Sembcorp Industries Scrubbing mode

■ 3Q17's reported net profit was below expectations due to impairment of assets and goodwill in utilities while 9M17 net profit was at 66%.

■ SGPL losses were higher than expected due to lower margin contracts and higher coal prices. 4Q17F could improve on higher spot prices.

■ Singapore was still the biggest contributor to utilities at about 60% utilities profit.

■ We factor in higher TP on SMM to SCI SOP valuations and derive a new TP of S$3.87. EPS adjusted by 9-10% for FY17-19. Maintain Add.

China Aviation Oil Singapore Corp (CAO SP)

3Q17: Impacted By Backwardation Oil Market

CAO's 3Q17 performance was a slight miss as trading and optimisation activities were impacted by backwardation in the oil market. Nonetheless, a 10.4% yoy growth in associate contributions offset a large portion of the earnings drop. We believe normalisation of the disruption of supply, weather and eventually backwardation will occur in 4Q17 and CAO is still able to catch up and hit our 2017 forecast of singledigit profit growth on strong fundamentals from its star SPIA associate. Maintain BUY. Target price: S$2.26.

OCBC

Frasers Logistics & Industrial Trust: Remains as one of our top picks


Frasers Logistics & Industrial Trust (FLT) reported its 4QFY17 results which met our expectations. DPU came in at 1.77 S cents, or 8.6% above FLT's IPO forecast. This was largely driven by inorganic growth as management had actively pursued acquisitions since its listing. Operationally, FLT maintained a high portfolio occupancy of 99.4%, with a long WALE of 6.75 years. Although rental reversions were negative for the quarter and full-year, we believe this is largely attributable to rents reverting back to market levels upon lease expiry as built-in annual rental escalations for FLT's leases typically outpace market rental growth. From a portfolio valuation perspective, FLT saw a slight compression in cap rates by 16 bps to 6.71%. We raise our FY18 and FY19 DPU forecasts by 2.3% and 2.6%, respectively, as we incorporate a higher AUD-SGD assumption. Rolling forward our valuations, our fair value estimate increases from S$1.22 to S$1.25. Maintain BUY, supported by an attractive FY18F distribution yield of 6.4%.

MAYBANK KIM ENG

StarHub (STH SP)

One Bright Spot In A Cloudy Sky

3Q17 results showed pressure, as expected StarHub's 3Q17 results were in line with our full-year and consensus expectations (FactSet) in terms of revenue, EBITDA and core profit (see Fig. 1). On an absolute basis, revenue was SGD580m (+0.2% QoQ; -0.9% YoY), EBITDA SGD176m (-2.5% QoQ; -1.8% YoY), and core profit SGD76m (- 10.7% QoQ; -11.0% YoY). MKE and consensus differ on 4Q17E outlook due to our more aggressive handset subsidy assumptions resulting in only SGD9m in core profit for the coming quarter against consensus of SGD43m. A delay in iPhone X availability would only delay what we believe is the inevitable. Maintain SELL and DCF-based TP of SGD2.17 (WACC 5.3%, LTG -1%).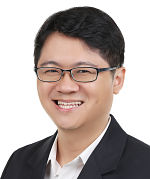 Check out our compilation of Target Prices