PHILLIP SECURITIES

CIMB

Global Logistic Properties Ltd

Management buy-out

 Scheme of arrangement from Nesta Investment Holdings to acquire all ordinary shares in GLP for S$3.38 apiece.

 Offer price represents a 102% premium to one-year VWAP and 30% premium to Net Asset Value (NAV) as at 31 March 2017.

 Offer price represents an 18% premium to our target price of S$2.87 and 6% premium to our RNAV estimates.

Singapore Press Holdings 3QFY8/17: impairment resurfaces in headlines

■ We deem 3Q17 core PATMI of S$66.7m in line at 29% of our full-year forecast, excluding a S$37.8m impairment on the magazine business.

■ Still no end in sight for the media business weakness as 3Q17 revenue fell 15.7% yoy.

■ Maiden contribution by Orange Valley Healthcare saw 8.2% yoy growth in the others segment, offsetting lower revenue from the exhibition business in the quarter.

■ We see positives from SPH's ongoing diversification efforts, and the possibility of more dividends from monetising its investments (M1 stake, Seletar Mall etc).

■ Our Hold rating is intact with a lower SOP-based target price of S$3.22 and 5% forecast dividend yield. Expect 4Q17F bottom line boost from 701Search stake sale.

MAYBANK KIM ENG

Singapore Banks

Singapore Property and Housing Loans

Singapore property market seeing some revival

Housing loans represent 31% of the system's domestic banking unit (DBU) loans. Following the implementation of cooling measures since 2009- 2013, mortgage growth has slowed from 16% YoY at end-2012 to 4% YoY now. Recent buoyancy in the Singapore property market augurs well for housing loans. In assessing the impact of housing loans, we conclude that loans could increase by SGD7-12b in our base case scenario of 24.5k units of private housing sales, raising housing loan growth by 4-6% YoY in 2017. This translates to an increase of 1-2% of system DBU loan growth in the same year.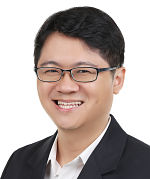 Check out our compilation of Target Prices