Excerpts from UOB Kay Hian report

Selected quality mid-caps to provide alpha. CAO and DFI both outperformed the FSSTI in Jan 17 and remain on our BUY list – given CAO's strong structural outlook in the aviation sector in China and given that DFI's earnings have not yet fully reflected the benefits from its Heinemann partnership.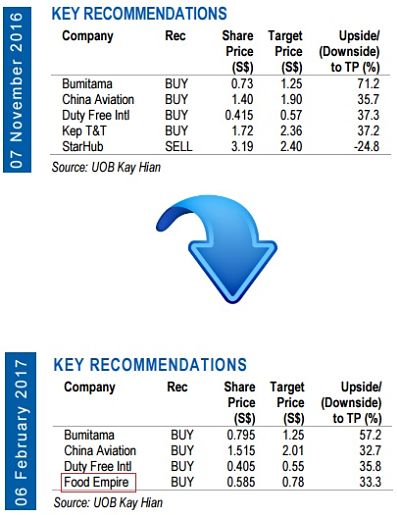 In addition, its strong financials also opens up the possibility for accretive M&As.

DFI recently rewarded patient shareholders with a 3QFY17 interim dividend of 1.25 S cents and a 2-for-5 bonus warrant issue, which surpassed our expectations.

We added in Food Empire as it is the dominant coffee mix market leader in Eastern Europe. With the revival of the rouble and the explosive growth in Vietnam, profits should recover nicely in 2016-17.


Food Empire - BUY (Nicholas Leow/Edison Chen)


♦ Food Empire is a dominant coffee mix market leader in Eastern Europe with a market share of more than 50% in Russia and more than 40% in Ukraine.

The company has raised prices in excess over local inflation in the last few years which demonstrates its immense pricing power in its core Eastern European markets.



♦

With a stable ruble and potential for Russian sanctions relief from the new US President Donald Trump, we expect a strong sustainable rebound in net profit for FY16 with the potential to return to paying dividends once again.



♦

Any upside to the US$/RUB will see further upward adjustments to our target price.



Share Price Catalyst




♦

Event: Sustained earnings growth momentum in 4Q16 and a return to paying dividends.



♦

Timeline: Potential upside in upcoming 4Q16 results (mid- to late-February) from a stable US$/RUB.

Full report here.