UOB KAYHIAN

OCBC

Sembcorp Industries (SCI SP) - Utilities Segment Remains Under-appreciated Despite Share Price Run-up

SCI is expected to deliver 12% earnings growth in 2017, led by strong earnings in India. This is likely to help offset the earnings decline from China as JV contribution from Yangcheng Coal PP expires. However, the recent share price run-up was driven more by SMM, than an appreciation of utilities' earnings potential. We lower our earnings forecasts by 1.5-2.0% for 2017-18 on a larger-than-expected decline at Yangcheng Coal PP. Maintain BUY with an unchanged target price of S$3.20.

Sembcorp Marine: Turning less negative

Since our downgrade to sell in Oct 2015, Sembcorp Marine's (SMM) share price has corrected by about 40%, compared to the STI's 3% drop over the same period. With news that OPEC (and more recently non-OPEC countries too) are seeking to cut oil production, oil prices have rebounded. We think that sentiment on oil may continue to be supported for now, putting potential short sellers at bay. More importantly, oil prices may have seen their worst as major oil producers have signalled their resolve to support oil prices, and we see less reason to remain as negative on the stock as before. That said, SMM's outlook remains challenging given the lack of new orders, and little order book replenishment will inevitably drive down earnings. Taking all these into account, we upgrade our rating from sell to HOLD, with a revised fair value estimate of S$1.43 (1.15x FY17F book).

MAYBANK KIM ENG

Sheng Siong Group (SSG SP)

Competition for Sites Heating Up Competition & execution risks on the rise We downgrade Sheng Siong to SELL from HOLD with a blended DCF/PE target price of SGD0.88 (from SGD1.06). We detect a deal-changing rise in competition for prime selling space and customers at a time when belts are being tightened. Sheng Siong's new outlet expansion plan is at risk. This is critical because new stores drive sales growth much more than old stores. Worst, two big store closures coming up in 2017 could be left with a shortage of new stores to pick up the slack. Recommend switch into Jumbo (JUMBO SP, TP SGD0.78).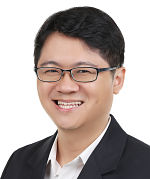 Check out our compilation of Target Prices