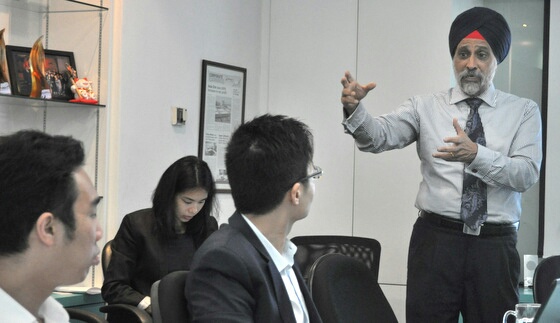 Gurcharan Singh, CFO of Trek 2000, at last week's 2Q results briefing.
Photo by Leong Chan Teik

Why did Osim International become a substantial shareholder of Trek 2000 last month (July)?

OSIM coughed up $10.91 million to buy 24 m new shares and 1 m treasury shares of Trek at 43.65 cents apiece. (The share price has since declined to 34 cents along with the broader market).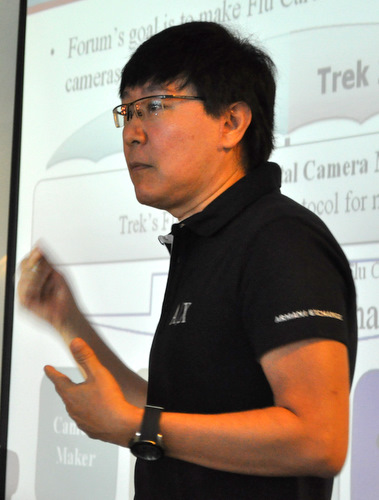 Henn Tan, Chairman and CEO of Trek 2000. NextInsight file photo.Adding to the 3,374,600 shares it held prior to the placement, OSIM now owns a 8.75% stake, and is the No. 4 largest shareholder of Trek after Trek chairman Henn Tan, Toshiba Corporation and Creative Technology.

On its becoming a strategic partner of Trek, OSIM had said in a statement: "TREK 2000 is a successful inventor of products in the space of Internet of Things and the Company looks forward to working with TREK 2000 on the commercial application of its patents and technology for products in the wellness and healthy lifestyle sectors."

At last week's 2Q results briefing, Trek CFO Gurcharan Singh was asked to elaborate on the partnership.

To begin with, when in use, certain OSIM products capture relevant data of the user but the data is not retained when the products are turned off.

"Trek comes in at the last mile. Our wi-fi solution can enable the user to upload his data to a portal," said Gurcharan.

Treadmill machines are another example of equipment which capture user data (pulse rate, distance run, running speed, calories burnt, etc) and can be modified to accept Trek's FluCard for the user to upload his data to a portal for aggregation and analysis.

To download data into a FluCard and upload it to a portal, the user uses an app on his smartphone to key in his password. Beyond the wi-fi solution are Trek's capabilities and patents in security and encryption.

Given its complete solution, Trek looks able to stay ahead of competition.

OSIM's range of products include a mini treadmill and a blood pressure reader. Gurcharan did not give an indication when OSIM's products might incorporate Trek's solutions but it is not likely to take a lengthy period.

Elaborating on the share placement to OSIM, he said that in such a move, Trek preferred strategic partners.

Asked about Creative Technology, he said that when Creative took up a placement of new shares in 2004, it went on to become an OEM of Trek's ThumbDrive. This arrangement subsequently ceased.

OSIM is the latest among companies that Trek is working with to incorporate its wi-fi solutions.

A few years ago, Trek worked with PLUS Corporation of Japan to incorporate the FluCard into electronic white boards so that content written on the electronic board can be saved and stored, and then wirelessly transmitted to smart phones and tablets of participants at the meeting.

Flucard-enabled white boards could find a home in educational institutions -- what Trek needs is a contract manufacturer to mass-produce them.



Highlights of Trek's 2Q results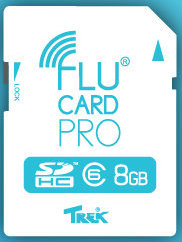 FluCard - set to replace the SD card.
· Revenue jumped 57.8% to US$41.8 million as demand for proprietary ICS products gained traction among new and existing MNC customers

· Net profit attributable to owners of the company surged 424.8% to US$ 1.1 million

· Positive operating cash flow led to a strong balance sheet with net cash position of US$13.1 million (not inclusive of proceeds from share placement to OSIM which was completed at the end of July).

· Capital boost of S$11.6 million from placement proceeds to fuel R&D initiatives and working capital requirements to drive growth in IoT (Internet of Things) market

For more information, see its press release.