CAPITAMALLS ASIA stock has fallen by some 34% from its 52-week high of S$2.01, and recently closed at S$1.32.

In comparison, the Straits Times Index is down by a relatively less severe 10%.

Investors had shunned CapitaMalls Asia shares, fearing that China's property curbs would stiffle its expansion strategy there.

However, uncertain times such as these in fact present opportunities for real estate players with access to funding to accumulate land bank.

By divesting its property development projects to the REITS under the group's umbrella, CapitaMalls Asia is able to recycle capital for a steady pipeline of real estate projects.

It is also taking advantage of the low interest rate environment to tap Singapore's capital markets using bond issues.

One thing is certain: Even as stock investors waver, the retail mall player still believes in the Chinese growth story in Tier 2 and 3 cities.

China's disposable household income has multiplied by a phenomenal 15-fold increase since 2002 and this boom is still in its nascent stage of growth for many of its Tier 2 and 3 cities.

For example, the penetration of shopping malls in second and third tier cities is at just 0.005 sq m per capita, compared to 0.26 sq m per capita in Beijing.

China's retail sales have grown a CAGR of 12.8% a year since 1990. With the rise of retail spending in Tier 2 and 3 cities, it only follows that rental rates and real estate values rise accordingly.

CapitaMalls Asia is now operating 72 malls, of which 42 are in China. It plans to open another 14 malls in China over the next few years.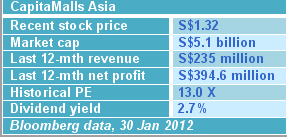 This month, CapitaMalls Asia raised S$400 million through the issue of long-term Singapore-dollar denominated bonds due 2022. The bonds trading on SGX on 13 Jan.

Interest rate is 3.8% per year for the first 5 years, and 4.5% per year thereafter.

For investors who are looking at long term stable returns, such returns certainly beats the 0.125% on fixed deposits if you put your money for two years with DBS Bank, who incidentally was the lead manager of the bond issue.

Since the bonds are traded on SGX, they can easily be liquidated at the cost of your broker commission.

It was no surprise the Capitamalls Asia bonds were snapped up like hot cakes – subscriptions amounted to S$465 million for the S$200 million offering.

In response to the over subscription, the issuer exercised its rights to double issue size to S$400 million.

What risks are associated with the bonds?
In times of booming economy and high interest rates, the bonds may trade below redemption value, but if one can set aside the cash for five to ten years, the bond covenant provides for full principal protection and redemption at maturity.

This is assured by CapitaMalls Asia's market position as one of Asia's largest listed shopping mall developers, owners and managers by total property value.

It has interests in and manages a pan-Asian portfolio of 91 shopping malls across 49 cities in Singapore, China, Malaysia, Japan and India.

Total property value is about S$23.7 billion and total gross floor area (GFA) is about 73.4 million sq ft.

Its landmark shopping malls include ION Orchard and Plaza Singapura, Raffles City Singapore and Clarke Quay in Singapore and Xizhimen Mall and Wangjing Mall in Beijing; Raffles City Beijing and Raffles City Shanghai in China.

Singapore contributes the bulk of its (55%) earnings before interest and taxes (EBIT) while China contributes 35%.

In Singapore, retail spending (excluding motor vehicles) is robust, having grown more than 5.0% per year since 2004. The only exception was in 2009. However, rental rates may soften due the additional supply of retail space being rolled out over the next three years.


Strong business model

Other than bond issuance, CapitaMalls Asia can raise landbanking monies by selling its development properties to REITs. It has 3 listed REITS --- CapitaMall Trust, CapitaRetail China Trust and CapitaMalls Malaysia Trust. It also has 5 private funds.

The advantage of its integrated shopping mall business model (retail real estate investment, development, mall operations, asset management and fund management) is that the company is able to ride on all stages of growth in the retail real estate value chain.