All photos by El Lee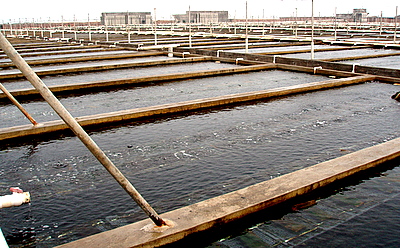 THE ABALONE-REARING farms of SGX-listed Oceanus Group stretch along the coastline of Fujian province and Guangdong province.

I recently visited three of them - Gulei and Fotan in southern Fujian, and Huilai in northern Guangdong. Despite having read extensively about the scale of the enterprise, I was astonished when I saw it with my own eyes.

At each farm, my eyes could not take in the entire farm – such was its expanse. The endless rows of abalone-rearing tanks stretched into the horizon.

In all, Oceanus owns 20,000 abalone breeding tanks holding at least 300 million abalones. This comprises 138.6 million caged abalones (as at 31 December 2008) and a further 14.1 million uncaged 1-year old abalones and 150 million newly-bred abalones.


These numbers make Oceanus the largest land-based abalone producer in China.

There is no close second. As at end-2008, the biological assets were valued at S$98 million.

I saw numerous tanks under construction - 40,000 is the total number of tanks Oceanus aims to own by the end of this year. The design of the tanks, the cages, the piping and the feeding process take into consideration simplicity in operating and ergonomics. That's why I noticed that the workers (Oceanus employed 777 workers as at end-08) accessed the cages with ease.

Fresh seawater is pumped and drained from each tank by a network of pipes that stretches from the bottom of the sandy seabed to the pump house and finally to the tanks.


Rainwater is drained away from the tanks using a simple device on the water surface as fresh water floats above the salty seawater. I saw numerous live abalones of different sizes. They are very hardy creatures.

When I took some out of water, they moved about actively. These creatures prefer dark crevices to dwell in. They are lowly organisms indeed, but highly priced. Ask any Chinese.

However, led by its chairman Dr Ng Cher Yew, Oceanus is determined to change the marketplace and make abalone more affordable, partly through its partnership with Ah Yat Abalone Restaurant (more on that shortly).

I also visited Oceanus' temporary abalone-processing facility. It is rented but a permanent processing facility will be up in July this year. Oceanus has the expertise now to do processing and canning of abalones. It is currently finalizing the process of drying and packing abalones.

S$8.50 abalone meal in café-style restaurant

In Ah Yat Tian Xia café-style restaurant in Shanghai's Wujiang Road, which opened in January this year, you can enjoy baked rice with abalone at only RMB38. That is just S$8.50—an affordable meal to the millions of middle-class Chinese in the major Chinese cities.


At the restaurant, which was packed during the lunch hour that three of us were there, we shared three different delicious set meals.

Three more Ah Yat Tian Xia outlets will open within the next few months in Shanghai. They are all located within either shopping complexes or close to commercial buildings.

I noitced several Bi Feng Tang and Ajisen restaurants in similar vicinities. Ah Yat Tian Xia's unique abalone-based meals are going to give them a run for their money in the coming years.


Recent story: OCEANUS: Now insured against disease, natural disasters, theft