TYPICALLY, COMPANIES buy back their shares aggressively when their stock prices are looking disappointingly low.

However, Nam Cheong Limited has surprisingly stepped into the market twice in the past 4 weeks to grab shares at prices that are close to record highs.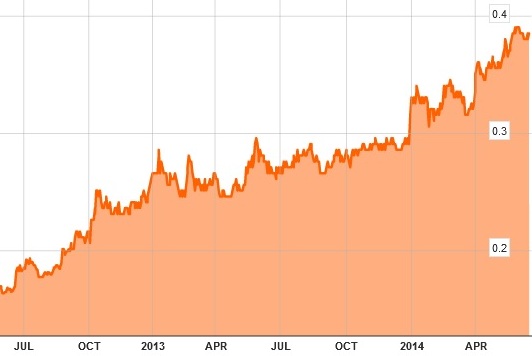 After a steady rise since its listing in 2011, Nam Cheong closed at a record high of 39 cents yesterday (23 June). It was listed on SGX in May 2011 via a reverse takeover. It trades at a trailing PE of 8.9X. Chart: Bloomberg

Malaysia's largest builder of offshore support vessels, Nam Cheong was listed on the Singapore Exchange via a reverse takeover of S-chip Eagle Brand Holdings in May 2011.

It bought back 2 million shares at 37.5 cents apiece on May 23 and 3.5 million shares on June 16 at 38.5 cents apiece.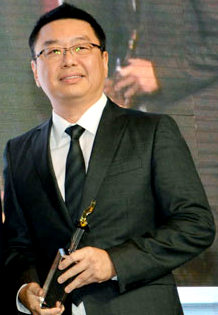 Nam Cheong's CEO, Leong Seng Keat. NextInsight file photo.Nam Cheong shares touched a record high of 39 cents on May 30 and June 2 -- and then 40 cents yesterday, after announcing it had clinched orders worth US$84 million for two very large accomodation vessels that it would build.

Its stock price has been buoyed by its business performance.

Its FY2013 net profit registered a strong 51% year-on-year growth to RM206.2 million.

Where it also matters to investors, Nam Cheong has also delivered: It raised its dividend to 1 cent a share for FY2013, double the amount in FY2012.

The FY2013 dividends amounted to S$21.0 million, representing a payout ratio of 27%.

By the way, investors who have taken note of the CEO's own buying would have found the confidence to follow suit.

On three ocassions in August and October last year, Leong Seng Keat bought a total of 10 million shares at just between 26.5 and 27.5 cents a share.


Recent story: LANTROVISION -- cash rich; NAM CHEONG -- higher earnings forecast