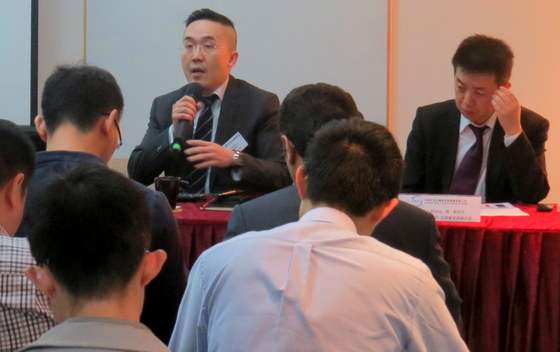 Shining a Light on Things: Comtec Solar CFO Keith Chau replies to investor queries with Chairman John Zhang to his left. Photo: Aries Consulting

COMTEC SOLAR Systems Group Ltd (HK: 712) boosted orders last year by nearly 153% to 561.7 megawatts (MW), while revenue only climbed 0.9% on weaker selling prices.

However, managment believes the sector has turned a corner.

Revenue for the year edged up to 1.0 billion yuan.

Gross profit in 2012 stood at 83.5 million yuan, down 9.8% year-on-year, while the gross profit margin slipped one percentage point to approximately 8.1%.

Net loss for the year was 165.1 million yuan, versus a net loss of 46.3 million in 2011.

Comtec's loss per share in 2012 stood at 14.55 RMB cents, up from a loss per share of 4.09 RMB cents for the year ended 31 December 2011

However, assessing things from an alternate angle, the bottom line news was more upbeat.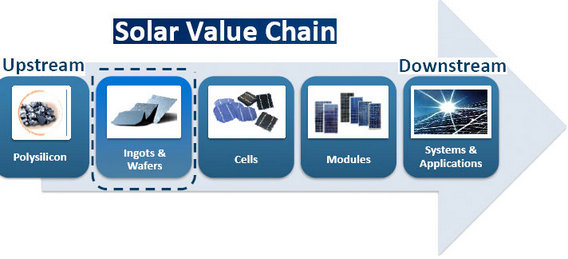 A Place in the Sun: Comtec focuses on the Ingots & Wafers segment of the solar value chain. Image: Comtec

Adjusted net profit in 2012 was approximately 68.5 million yuan after excluding non-cash other losses of 190.9 million yuan which mainly included losses on redemption of convertible bonds and cancellation of warrants, net losses on fair value changes of warrants and other financial liabilities.

Also included are net exchange losses and losses on disposal of property, plant and equipment, non-cash write-downs of inventory of 5.1 million yuan, non-cash share-based payment expenses of 20.3 million and non-cash accounting interest expenses in relation to convertible bonds before repurchase of 17.3 million.

Despite the deteriorated bottom line, management was very encouraged by the company's higher volume sales last year as well as long-term strategies taken including inventory clearance and R&D investments.

"During the year, worldwide excess capacity and industry consolidation continued, driving down selling prices across the value chain. These challenging commercial conditions adversely affected the operating results of every solar company.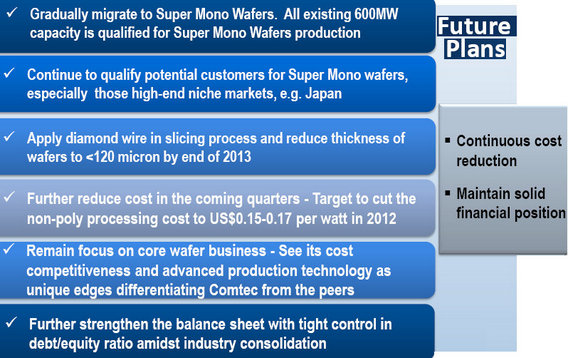 "Despite the market challenges, we still achieved year-on-year shipment growth, shifted focus to our premium 'Super Mono Wafer' products, achieved reasonable profit margins, generated cash inflow from operating activities and maintained a healthy financial position," said Comtec Solar Chairman and CEO John Zhang.

Speaking at a results briefing for investors at the office of Aries Consulting in Hong Kong, Mr. Zhang added that the Shanghai-based solar products firm was set to turn things around given its strong market position in a very competitive industry.

"We are not the only wafer and ingot maker, but we do enjoy technological advantages in the market and high-quality production that act as formidable entry barriers to would-be competitors."

Comtec was gaining in efficiency in terms of its capacity utilization, as annualized production capacity last year stood at 600MW while overall shipments surged nearly 153% to 561.7MW.

That meant very little of Comtec's Shanghai-based wafer and ingot making facilities were idle last year.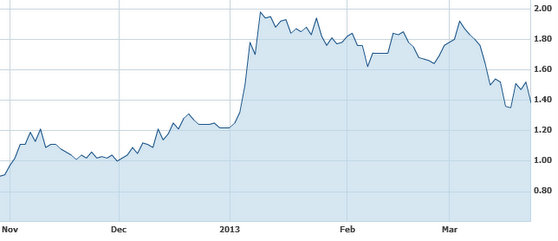 Comtec's shares surged in January on news that Warren Buffett's firm was investing in a major client of Comtec's. Chart: Yahoo Finance

"Despite the challenges facing the market in 2012, we achieved notable shipment growth. With the continuous decrease in the selling price of polysilicons and modules, our customers increasingly realized the benefits of buying highly efficient products to help them reduce overall system costs and strengthen their competitive advantages."

Mr. Zhang went on to explain that with relatively low ASPs in the market, downstream end-users of solar products were increasingly paying attention to quality over price in their purchasing decisions.

"Overall, this strengthens demand for highly efficient solar products like ours."

He said that in an increasingly competitive solar products market: "Comtec strives to differentiate itself by staying committed to offering value-added products with premium quality.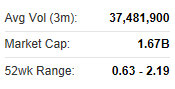 Comtec recently 1.3 hkd"Based on feedback from our major customer last year, our highly efficient 'Super Mono Wafers' can achieve an average conversion efficiency of approximately 23%."

All of Comtec's existing 600MW capacity is capable of producing the highly efficient, more profitable "Super Mono Wafers."

And looking ahead, with Comtec's strong commitment to R&D as well as desire to move up the value chain, the Hong Kong-listed technology firm will further enhance its market share in an increasingly consolidating sector.

"We keep working on the qualification process with other potential customers and target to commence pilot shipments to a Japan-based client in the first half of 2013.

"We expect to gradually replace the traditional P-type monocrystalline wafers with our 'Super Mono Wafers' and we believe our ability to manufacture more advanced and efficient products will differentiate us in the market and strengthen the barrier to entry to our business," Mr. Zhang said.

He said cheaper upstream inputs were helping ease costs.

"We also benefited from the significant decrease in polysilicon prices in the market. In 2012 we actively renegotiated with our major polysilicon suppliers and were able to lower our average cost of polysilicon to approximately 171.6 yuan/kg, down from 327.4 a year earlier.

"We will continue to focus on combining innovative products and manufacturing efficiency to respond to the fast growing and competitive landscape of solar industry."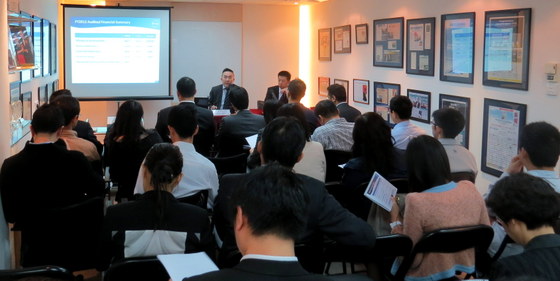 Break in the Clouds: Comtec told a roomful of investors that it saw better times ahead for competitive Chinese solar plays. Photo: Aries Consulting

Asked what he thought of the new government in Beijing's support of China's solar sector, Comtec CFO Keith Chau said he expected continued strong backing, but not to the extent that capacity grows too fast for its own good.

"We fully expect the new leadership to maintain a positive and supportive stance toward domestic solar product makers.

"However, we don't think it will be too aggressive because that might lead to another situation like we saw a couple years ago."

He said that Comtec expected Beijing to be more particular in how they decided to apportion industry subsidies going forward.

"The government won't support growth for growth's sake, but will instead offer support for those firms who are stronger, more viable and more efficient. And Beijing will continue to support industry consolidation to protect selling prices."

And that, Mr. Chau said, was good news for Comtec Solar.

As for Comtec itself, not only was it continually striving to produce higher conversion ratio products more efficiently, but was also looking to cut costs to help protect and bolster margins.

To that end, the CFO said its production facility project in Malaysia not only enjoyed lower electricity costs which typically make up 20% of the total, but more affordable labor costs as well.

"In Malaysia, we can obtain our electricity for around 5 US cents per kilowatt hour, which is much lower than in Shanghai. This could save us around 60 million yuan each year."

"Our two key objectives going forward are to continue reducing costs while improving quality and efficiency. At this point we have a net cash position and one of the best financial positions in our sector."


---

See also:

TECH TALLY: 'Outperform' For COMTEC, LENOVO; BYD 'Neutral'

CHINA SOLAR SECTOR Emerging From Shadows?

ANWELL: Completes US$25 M Solar Power Plant In Thailand

COMTEC SOLAR: Doubles Shipments, But Swings To Loss